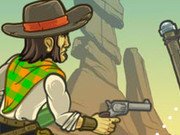 Western Games 365 Online - Play Fun Wild West Internet Cowboy Game
Get ready for some Wild West action. Internet Games 365 offer free online western games. Fans of the Cowboy age would love our great selection of western games. Rescue hostages, save the sherrif from the desperados, and prevent robberies. Put on your leather pants and ride away into the sunset on your loyal horse. In these internet games you get to choose if you are the Good, Bad, or the Ugly one. Travel to Copperhead or join the gun duels in High Noon, shoot your enemies and see how quick you are at pulling your gun. Aim through your crosshair, and make those barrels smoke. Join Billy, Outlaw Jack, Bob, and Joe on online adventures in a time where the west was wild. If your cowboy skills are getting a little rusty, there is a virtual Cowboy School you can try out. We even have western internet games where you can dress voguish cowgirls, or even go on a honeymoon. Best of all, we are a website that is accessible 365 days a year, so you can come and play our online games whenever you want.
The First Wild West Computer Game was the Oregon Trail
The First Wild West game was released a long time before Internet and online gaming. The Oregon Trail is a computer game originally developed by Don Rawitsch, Bill Heinemann, and Paul Dillenberger in 1971 and produced by the Minnesota Educational Computing Consortium (MECC) in 1974. The original cowboy game was designed to teach school children about the realities of 19th century pioneer life on the Oregon Trail. The player assumes the role of a wagon leader guiding his or her party of settlers from Independence, Missouri, to Oregon's Willamette Valley on the Oregon Trail via a covered wagon in 1848. The Oregon Trail was extremely successful, selling over 65 million copies, after ten iterations over forty years. It was included in the book 1001 Video Games You Must Play Before You Die. It was followed by video games such as Boot Hill (1977), Outlaw (1978), and Sheriff (1979).
The Best Western Games of All Time - Not Internet
Long before Red Dead Redemption burst onto the scene, truly representing the coming of age of the western genre, we had Red Dead Revolver, an assuming third person shooter created by Rockstar San Diego in 2004. Another great Wild West game is Wild Arms is often remembered for being an excellent RPG with a compelling, if often over the top and cheesy, story and some memorable characters, but what people often forget is that it was one of the first games to prominently feature a Wild West American setting. After Red Dead Revolver, Gun is perhaps the first game on this list that is unabashedly an out and out western. Published by Activision. It took cues from other popular games like Max Payne, especially with its Quickdraw gauge, that slowed time down when activated and gave the player unlimited ammo, leading to some impressive action sequences. But, enough about the close to the best cowboy games. The Best Western Game of all time is offcourse Red Dead Redemtion. Everything about this game was perfect, spot on- from the emotionally moving story to the vast, rich world to explore, from the cover based gunplay to the sidequests, to the plethora of things that there are for you to do in this title, this game represents the pitch perfection of free roaming, open world games. There has never been a better one, and that is no exaggeration.
Why People Love Western Games
Come on, admit it. You know why you love Western Games, with the macho protagonists wearing their cowboy hats and leather boots, and literally just walking into gunfights, pulling out their old revolvers from holsters that flank each of their hips. A Wild West internet game makes you wanna feel like a badass yourself, and what you want, more than anything else, is a way to live out your fantasies.