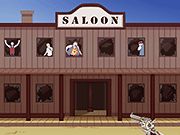 Old West Shootout Game Online - Play Free Fun Western Web Games
Howdy partner! We present you old school arcade shooter game. You're the best shooter of the village and the sheriff asked you to help him. The enemy is trying to rob the village. Shoot bandits and save hostage. Get cash and collect up to 10 gun, each with different effect. Have fun!
10,779 play times
How to Play Old West Shootout Game
Use your mouse to aim and shoot.
The Best Wild West themed Video Games
With its smokin barrels, frontier shootouts, scenic environments and high-speed horseback chases, you would think the Wild West to be fertile ground for video game lore. However, when compared to settings like World War II and the postapocalyptic future, wild west gaming history looks like something akin to a ghost town populated with the occasional tumbleweed. According to askmen.com one of the early next-gen releases for the Xbox 360 in the fall of 2005, GUN is probably best remembered for its superb voice cast as opposed to its open-world sandbox-style game-play. Featuring the likes of Thomas Jane, Lance Henriksen, Kris Kristofferson, and, of course, Tom Skerritt, GUN oozed wild west gravitas. Sunset Riders is a side scrolling, run-and-gun shoot-'em-up from Konami was loaded with a colorful cast of characters, fun set pieces and more political incorrectness than you could shake a stick at. Much of what is considered controversial, like raging Native Americans and scantily clad barfly women. Gun.Smoke was best remembered as a mainstay of arcades in the 1980s, this vertical shooter from Capcom was basically a palate swap of another one of the company's popular games at the time, Commando. The best wild west video game of all time has been around for more than 40 years, and is offcourse the Oregon Trail. What started as an educational game to teach school kids about 19th century pioneering life, The Oregon Trail morphed into a piece of pop culture history.