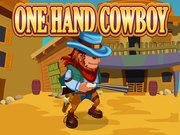 One Hand Cowboy Game Online - Play Free Fun Western Web Games
A wild west Sheriff who must practice his aim if he hopes to survive. Shoot your way through 12 levels of challenging target practice and prove you have what it takes to be a law gun man. Have fun!
10,295 play times
How to Play One Hand Cowboy Game
Mouse or touch screen to play this game. Do your best and use the limited bullets and your accurate shooting abilities to take down all the targets in each level of the free online game.
What is Target Practice?
According to WikiPedia target practice refers to any exercise in which projectiles are fired at a specified target, usually to improve the aim of the person or persons firing the weapon.
Is there such a thing as a Cowboy School?
Yes, there is actually several. According to cowboyschool.net at the cowboy school you will be schooled in the wisdom and skills of the west. From horsemanship to cattle work, ranch roping, range management, and more, you will learn by doing, hands on, right away. In a technology driven society, ranching still requires expert cowboys that ride, rope and handle cattle horseback. The courses you can expect to find at cowboy school are designed to be a serious attempt at teaching you horsemanship skills and ranching techniques you will carry with you the rest of your life. For some it is the dream of living life where the western mountains meet the endless sky and vast spaces are a just a part of the lifestyle. If you are having this dream, then maybe you should look into starting at a cowboy school.
Tags: Cowboy