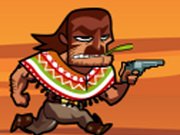 Cowboy Dash Game Online - Play Free Fun Western Web Games
Cowboy Dash is a fast paced shooting game. The game is set in a western environment with your regular saloons and wooden shacks. You have to be very quick while shooting because the bad guys pop up from anywhere. If you are one of those that enjoy wild west shooting games, then is the web game for you. Have fun!
10,519 play times
How to Play Cowboy Dash Game
Use space, mouse or touch the screen.
How was it to be Cowboy back in the Wild West?
The American west was a rugged country back then with little amenities and much danger. According to thewildwest.org cowboys played an important role in the settling of the west. Ranching was a big industry and cowboys helped to run the ranches. They herded cattle, repaired fences and buildings, and took care of the horses. The cowboy represent the free spirit of America. They do what they want and go where they want. Cowboys often worked on cattle drives. This was when a large herd of cattle was moved from the ranch to a market place where they could be sold. This was often a hard and dangerous job.