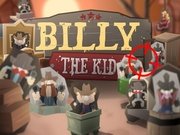 Billy the Kid Game Online - Play Free Fun Western Web Games
Get ready to shoot cowboy because its time to deal with Billy the Kid and his gang of rascals. Those vermin are trying to take control of the city and if we want to be able to drink peacefully in the saloon we are going to have to make them understand who is the sheriff in this town which is you in fact so your are the one who is doing the shooting part. While you are at it if you could save the daughter of the mayor and avoid shooting civilian that would be nice. This web game have 80 levels. Have fun!
10,740 play times
How to Play Billy the Kid Game
Use your mouse or tap the screen to play.
Fun Sheriff Facts for Kids
According to encyclopedia.com there are many fun sheriff facts for kids. In most countries the sheriff is usually the chief peace officer. Because county governments were typically the first established units of government in newly settled American territories, sheriffs were among the first elected public officials in an area and thus developed a leading role in local law enforcement. Sheriffs are typically chosen in a county election. To serve as sheriff, an individual must usually meet certain requirements: residence within the jurisdiction, no criminal record, U.S. citizenship, and compliance with provisions guarding against nepotism. State statutes or state constitutions regulate many duties of a sheriff and emphasize preserving the peace and enforcing criminal laws. In general, a sheriff may be liable in damages to any person injured as a consequence of a breach of duty connected with the office.