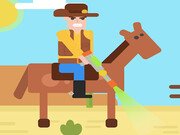 Cowboy Brawl Game Online - Play Free Fun Western Web Games
Cowboys on horses shooting each other with Super Soakers. What could be wackier than that? Well try and control your cowboy's horse and you'll see! Battle another player or the CPU to see who can knock the other player off the ledge. Grab power-ups before they disappear to give your cowboy an edge. Power-ups include Opponent Freeze, Power Shot, and Rapid Fire. Have fun!
10,828 play times
How to Play Cowboy Brawl Game
Two macho men in cowboy hats have decided to duel. For some reason, they do it on horses on the roof of the train. Don't ask how it is possible, just accept it. Tap W to shoot and Space to jump. Combine these keys to force the opponent off the train. This is the only way to win. Note that the character moves the hand with the gun automatically: slowly up and down. Your goal is to catch the right moment and fire. If you hit your target, the enemy flies back.
Opponents and Power-ups in Cowboy Brawl
The title gives each character its own color: red and blue. Jump to dodge the incoming water and withstand 5 rounds. If you fall more times, you lose. There are 2 mode options available:
Fight against an AI-driven rider. Sly algorithms make it hard to outperform them. Practice, and you'll get enough experience to show great results.
Invite a friend and have fun together. In this case, the second player clicks L to shoot. And the Up key arrow to leap up.
Bonuses pop up from time to time. Grab them to get an edge, such as:
Enemy freezer
Protection field
Constant firing
Their usage usually decides your fate, so don't neglect them. The duel takes place both at night and during the day. You probably won't have time to marvel at the surroundings. But the nature and design are beautifully drawn.