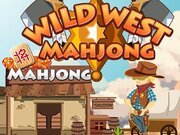 Wild West Mahjong Game Online - Play Free Fun Western Web Games
This is a variation of Mahjong Solitaire themed after the Old West. Giddy up, partner! Pair identical free stones to remove them from the stack. Clear the entire stack before the level timer runs out. Can you survive the Wild West and finish all 30 levels in this Mahjong Solitaire game? Combine 2 free same tiles to remove them. Have fun!
10,948 play times
How to Play Wild West Mahjong Game
Touch the screen or use your mouse to play.
5 Incredible Games Based In The Wild West
According to MakeUseOf.com no genre is as iconic as the American Wild West. It's the only one to blend elements of exploration, establishment, and expansion with a healthy dose of cool cowboy heroism. You don't need to be an American to appreciate the unique landscape of the Wild West, and it's a shame that there aren't many mainstream games based on that time period. If you want to inject a serving of the Wild West into your gaming sessions, you really need to check out these awesome games. Call of Juarez: Bound in Blood, it got everything from heroes to outlaws, duels to robberies, even stagecoach chases and feuds with Native Americans. Red Dead Redemption, it takes the Wild West genre, wraps it up in a large open-world sandbox environment, and leaves it up to the player to interact with the game however he or she sees fit. Gun,it takes place in an open-world environment with multiple sidequests and minigames that expand on the lore. Wild Arms 3, is an RPG that takes place in a fictional world called Filgaia, it's basically the American Wild West, making it a unique title since there aren't many RPGs that make good use of the setting. Oregon Trail, it was the game that defined our childhoods and taught us that games could be harsh and a list of Wild West games would be incomplete without it.
Conflicts in the Wild West
Many wars took place as a result of the land conflicts. The first conflicts began in the 1600s and the conflicts continued off and on until the late 1800s. One of the major wars includes the Battle of Little Bighorn. This battle was fought between the U.S. 7th Cavalry, led by General George Armstrong Custer, and the Lakota-Cheyenne, led by Sitting Bull. It was fought in 1876 in Montana, and it was a great victory for the Lakota. The Wounded Knee Massacre occurred in 1890 between the U.S. 7th Cavalry and the Lakota Sioux. The leader of the Sioux, Sitting Bull, had just been killed, and tensions were high. This battle left more than 300 Lakota dead. It marks the last armed conflict between the Lakota and the U.S. Army.