Mystic Sea Treasures Game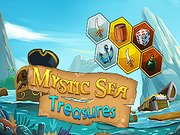 Mystic Sea Treasures Game Online - Play Free Fun Pirate Web Games
Deep beneath the sea lies a magnificent treasure waiting to be found. Matching puzzle is an incredibly popular genre that millions of people enjoy. Unfortunately, it is not particularly diverse when it comes to mechanics. But talented creators always find room for ingenuity and interesting solutions. Mystic Sea Treasures is a game that defies the common stereotypes and reinvents the formula. Swap different objects on the board to form straight lines of 3 or more. Earn bonus powers that speed up the process. Strive to clear the necessary number of cells before the time runs out. Complete all the stages and find the legendary riches. Have fun!
10,176 play times
How to Play Mystic Sea Treasures Game
The story is divided into multiple chapters represented by levels. Each has a certain objective that the player has to fulfill. The idea is to get rid of tiles by arranging them into groups. Click and drag any of them to switch it with the adjacent one. Align at least three horizontally or diagonally to clear them from the screen. Include the cells encircled by star halos to generate various combo moves. Unleash them to destroy many pieces instantaneously. Meet the requirements to access the next part of the journey. Finding patterns in chaotic layouts and rearranging them has never been so exciting. Launch Mystic Sea Treasures for free in any capable browser without installation. Have fun advancing through the campaign and finish all the missions to see the ending.
The World's Greatest Lost Treasure.
Whether money, priceless artworks, or untold vaults of knowledge, the idea of treasure titillates the minds of nearly every person on Earth. Fortunes have been thrown away in the quest for lost treasure, and the fame and even greater monetary rewards they promise. According to ListVerse.com the world's greatest lost treasure is the Kusanagi Sword. Its full name is Kusanagi no Tsurugi, which translates to "Grass-Cutting Sword", and it is one part of a trio of artifacts collectively known as the Imperial Regalia of Japan. Used during a semi-religious ascension ritual which takes place each time a new emperor is crowned, the sword is seen as a symbol of the new ruler's legitimacy and has been allegedly given to each one for over a thousand years. Kusanagi no Tsurugi represents the virtue of valor. It sunk to the bottom of the ocean during a battle in the 12th century. The sword plays a large role in Japanese mythology and was said to have been found in the body of an eight-headed serpent slain by the storm god Susanoo.