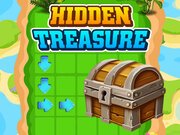 Hidden Treasure Game Online - Play Free Fun Pirate Web Games
Treasures, which they manage to take away from merchants and merchants, robbers are taken to desert islands and carefully hidden. The sea robber is not long, many do not live to old age and do not return behind buried chests. You will go to a little-known small island among the ocean, where more than one generation of pirates hid their wealth. You do not have a map or a single landmark, but there are a limited number of moves that need to be made to find the chest. Have fun!
10,558 play times
How to Play Hidden Treasure Game
Use mouse or touch the screen.
The Biggest Treasure Trove ever Found
We know people in many ancient cultures buried their treasures with their dead – just look at all the things that have been uncovered from Egyptian pyramids, for starters. According to MentalFloss.com the biggest treasure trove ever found is the Bactrian gold treasure which was found in 1978. The treasure found at Tillya Tepe, which has become known as the Bactrian gold, was also recovered from graves: when six burial mounds were excavated, more than 20,000 gold ornaments were retrieved. The treasure was dated to around the 1st century, and came from the burial sites of a nomadic prince and five women (possibly his wives). What's particularly interesting about this hoard is that the treasures are so diverse, with objects from China, India, and Greece all mixed in together. The jewellery is elaborate, set with precious stones of all colors. A treasure like this cannot be given an exact value, as it is considered to be priceless.
Tags: Treasure