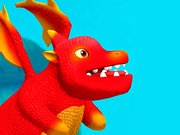 Dragon Flight Race Game Online - Play Free Fun Dragon Internet Games
Enjoy 3D fantasy territory while riding a raging dragon on bumpy tracks. This dragon has already taken part in a popular racing competition. He is very fast, but still needs your assistance to make a long trip on the deadly and uneven trails. Raise a dragon, run and complete. Your friend dragon is already ready to go so make him run fast until he completes the race. His competitors are also very quick, so try to challenge your quick reflexes to help him reach first on the finish line. Use your racing and dragon flying abilities to drive the distance to raise his rankings. The more conscious you are, the faster you drive the distance to raise the rankings. Have fun!
10,265 play times
How to Play Dragon Flight Race Game
Use your mouse or touch the screen to play.
Dragon Flight Race - Game Strategy
Plan a strategy to race your character across a modular map while avoiding all the obstacles in this HTML5 running game! Make sure to keep your character from the attacks of his competitors to reach him safely to the destination. There are multiple levels to play through for the players without download. Get ready to let your dragon fly at the defined speeds and altitude across a modular hex map! Your dragon will have different obstacles to face off while moving from one canon to another. Try to complete your race fast to finish each level with 3 stars rating in this 3D flight game! Do not forget to use the powerful flames to attack your enemies and force them to lose control. Good luck to guide your dragon to race against the time and finish all addictive levels!