Amazing Superheroes Coloring Game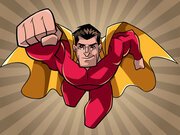 Amazing Superheroes Coloring Game Online - Play Free Fun Superhero Web Games
Amazing Superheroes Coloring is a free online coloring and kids game. In this free online game you will find eight different pictures which have to be colored as fast as you can to obtain a great score at the end of the game. You have 23 different colors to choose. You can also save the colored image. Have fun!
10,546 play times
How to Play Amazing Superheroes Coloring Game
Use your mouse to play or tap on the screen.
Fun Super Hero Facts for Kids
According to WikiPedia a superhero is a type of heroic stock character who possesses supernatural or superhuman powers and who is dedicated to fighting crime, protecting the public, and usually battling supervillains. A female superhero is sometimes called a superheroine, although the word superhero is commonly used for females also. By most definitions, characters do not require actual supernatural or superhuman powers or phenomena to be deemed superheroes. A superhero's costume helps make him or her recognizable to the general public. Costumes are often colorful to enhance the character's visual appeal and frequently incorporate the superhero's name and theme. Some superheroes use their powers to counter daily crime while also combating threats against humanity from supervillains, who are their criminal counterparts. Often at least one of these supervillains will be the superhero's archenemy. Some long-running superheroes such as Batman, Spider-Man, Superman, Captain America, Wonder Woman, Iron Man, the Flash, Wolverine, Green Lantern, and Hulk have a rogues gallery of many villains.