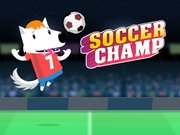 Soccer Champ Game Online - Play Free Fun Sport Internet Games
Simple one-button football game with cute dogs. Kick ball when it is right on crosshair and score goals. Get as high score as possible within 30 seconds time limit. Have fun!
10,580 play times
How to Play Soccer Champ Game
Kick ball when it is right on crosshair. Get bonus time for precise kicks.
More than 40 years of soccer video games
Soccer video games have been around for more than 30 years. On the earliest ones the ball didn't even look round, but you could see all the pixels, making it almost look like a de-formed piece of popcorn. The goal of many games have been to recreate the excitement of the playground game on their computer or console. Some of the earliest games were rubbish and tough, in fact near impossible to score in. Others just a pale shadow of the football games we play today. A quick Google search for the first example of a soccer game will point you in the direction of Intellivision NASL Soccer from 1979, which was pretty basic. International Soccer on Commodore 64, was for many one of the greatest early soccer games. When it loaded, it was pure footballing excitement. If you enjoy playing old school arcade or video sports games, then we recommend you visit our friends over at ClassicWebGames.com.