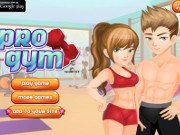 Pro Gym Game Online - Play Free Fun Yoga Internet Games
Feeling fat, sad, and always sweat? It's time to burn those excessive calories flocked under your skin and turn them into pure fuel for your body. Enter our exclusive program for overweight people who had enough of being called fat and discover what you have to do in order to properly take care of your body! Keep in mind: healthy eating habits, many hours spent in the gym and enough hours of sleep are the three main ingredients which are going to totally transform your body so make sure you don't neglect any of them! You will feel broken, you will feel a lot of nausea at the beginning, sometimes dizzy and you'll even throw up from time to time but everything will pay off and you'll see amazing results every time you check yourself in the mirror. Don't give up, you've got this! Have a great time playing the Pro Gym game for girls. Have fun!
10,899 play times
How to Play Pro Gym Game
howtoplay
What does a Yoga Instructor do?
According to careerigniter.com through the use of postures, known as asanas, and proper breathing exercises, called pranayama, yoga instructors help students develop flexibility, strength, balance and peace of mind. Yoga instructors, together with Pilates instructors, are classified as specialized fitness instructors. Their main job is to show how the moves of a particular exercise are done. They also guide students and correct them when they perform a movement incorrectly. Although the most obvious role of a yoga instructor is that of the actual teaching of classes, they also have other responsibilities. They design courses and lesson plans and ensure that these are adapted to the groups that they teach. Yoga instructors are also responsible for continually upgrading their knowledge about the exercise and their teaching skills. They could get certification in different kinds of yoga exercises and offer such classes to their students. Since yoga instructors can teach groups or individuals, they may also travel to a client's home during evenings or weekends if this is the arrangement set. They may also teach groups in a sports center located in another part of town.