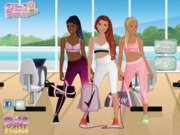 Fitness BFF Game Online - Play Free Fun Yoga Internet Games
Hmm, are they getting in shape for climbing Mount Everest? Or exercising to get healthier? Or maybe, just maybe, they are really into the athleisure wear? Help the besties get ready, by dressing them up the way you think they should look. Have fun!
10,155 play times
How to Play Fitness BFF Game
Touch the screen or use your computer mouse to play this fun dress up game.
How to dress for Yoga
According to wikihow.com Yoga is intended to be a meditative, relaxing form of exercise. But dressing for yoga can be intimidating for beginning students. Generally, it is important to wear clothing that is both comfortable and made from breathable fabric (like cotton, bamboo or jersey). It will also help to know what type of yoga class you are attending in order to determine the best outfit. Common clothes used includes yoga pants, sports bras, yoga tops, and yoga shorts. Breathable pants and tops keep you moving the way you want while tanks and shorts keep you cool. When you're sweating and stretching in the studio, what you have on your body is the last thing you want to worry about. Clothes that are too thick, don't breathe, stick to you, or raise your body temperature can force your mind to wander instead of being present in the moment. Being comfortable and able to move freely is an important part of a successful and relaxing yoga session.
Can playing dress-up games improve girls creativity?
Creativity is defined as "a phenomenon whereby something new and valuable is formed". When a child or younger teenagers are allowed to create and design their own winter, summer, spring, or fall, or even princess fashion, their artistic abilities are triggered. When they do this, they are able to openly express themselves without judgement and this can be satisfying and fulfilling for an adolescent in a very competitive world. Some may believe that creativity is something that a child is born with, but it is actually a skill that needs to be developed throughout their childhood and can start with simple thinking and problem solving activities that are much needed in order to spark their imaginations. Playing a fun and free game online like the Yoga Dresses can help them begin.
Tags: Yoga