American Trucks Memory Game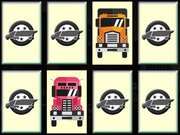 American Trucks Memory Game Online - Play Free Fun Truck Matching Games
American Trucks Memory is puzzle memory game. You need to memorize position of images with American Trucks and to find two same cards with images. Do this with all cards before time is out and try to pass all levels. Have fun!
10,301 play times
How to Play American Trucks Memory Game
Tap on cards to play this web game. Play all levels and go to the finish line.
Benefits of Memory Matching Games
there are many reasons why you should play memory match games. First of all it is a healthy exercise to your brain, which is will help you improve concentration and increase attention. Improved concentration and attention skills makes it easier for you to keep focus. Research shows that memory games enhance cognitive skills, and boost your brain functionality. Memory matching games is a great way to train your visual memory, and also at the same time increase your short-term memory. Probably the most important long term benefits of memory matching games is that they have been scientifically proven to help prevent memory-related illness. It is fun to play memory matching games, and playing them against the clock forces us to think fast.