Wild Hunter Sniper Buck Game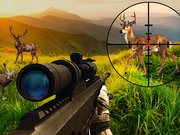 Wild Hunter Sniper Buck Game Online - Play Free Fun Hunting Internet Games
Try to become the best hunter of the season in this free online game. A jungle like African jungle is here in this game in which deers and other wild animals are wondering, you have to find them and hunt them. Different powerful guns and pistols are available for you which have different shooting ranges, you have to select any gun according to your own choice and perform deer hunting. Have fun!
11,100 play times
How to Play Wild Hunter Sniper Buck Game
Use Mouse to shoot, R - reload, E - turn night vision.
Deer Hunter games series have been around more than 20 years
According to WikiPedia Deer Hunter is a series of hunting simulation video games. The first game in the series was released in 1997. It was developed for only $125,000, yet sold over a million copies and topped the PC game charts. The deer hunting game was an early success in the casual game market. Game-play usually takes place in a thick forest or meadow during different seasons of the year. Animals and objects other than deer can be seen while playing, including Bigfoot and UFOs in some incarnations, but these serve no purpose other than scenery. Some animals may be shot and killed, but the player receives no trophy and will be penalized if the animal was a protected species.
Fun Facts about Deer for Kids
According to easyscienceforkids.com there are many fun deer facts for kids to learn about. Deer are part of the Cervidae family that include moose, reindeer, elk and other species. During the mating season male deer will often use their antlers to fight for the attention of female deer. Deer have long legs typically suited to the environments they live in. They can jump high and swim well. Native Americans hunted deer for their meat, skins and sinews. Today, there are many deer in the U.S. In the summer, deer live in woodlands or fields. In the winter, they move to forests for protection from the cold.