Real Jungle Animals Hunting Game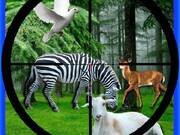 Real Jungle Animals Hunting Game Online - Play Free Fun Hunting Internet Games
Real Jungle Animals Hunting is free fun game where you take on the role as a professional hunter exposing his life in trying to kill energetic creatures. This is an amazing and addictive action and Adventure game to take you to an ultimate adventure in the most realistic environment with tress, grass, outdoor, mountains etc. best world forest places. Have fun!
10,704 play times
How to Play Real Jungle Animals Hunting Game
Use the following keys to control the avatar: WASD or Arrow Key to Move the player. R to Reload Gun. Right Mouse Click to Zoom. L - Lock/Unlock Cursor. Q- Switch Gun.
What Kind of Animals are Hunters hunting in the Jungle
According to WikiPedia hunting is the practice of killing or trapping any animal, or pursuing or tracking it with the intent of doing so. The term safari is usually used to describe hunting for big game in the jungle. A safari may consist of a several-days- or even weeks-long journey, with camping in the bush or jungle, while pursuing big game. A complete list of jungle animals would take you weeks and weeks to read, since there are millions of animals living in the world's jungles, also known as tropical rainforests. Some of the more well known game animals include Leopards, Tigers, Elephants, Bears, and Monkeys.
The Jungle Hunt Video Game
We can't have a website with a Jungle Hunting game without mentioning the classic video game. According to WikiPedia Jungle Hunt s a right-to-left side-scrolling arcade game produced and released by Taito in 1982. It was initially released as Jungle King. Jungle Hunt is one of the first video games to use parallax scrolling. The player controls an unnamed explorer, sporting a pith helmet and safari suit, attempting to rescue his girl from a tribe of cannibals by swinging from vine to vine, swimming a crocodile-infested river, and avoiding rolling rocks. Jungle Hunt changed names several times during development. The original prototypes were called Jungle Boy and later became Jungle King for release to the arcades. Jungle Hunt was well received, gaining a Certificate of Merit in the category of "1984 Best Adventure Videogame" at the 5th annual Arkie Awards.