Ice Queen Romantic Date Game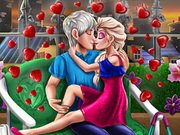 Ice Queen Romantic Date Game Online - Play Free Fun Dating Web Games
Go on a romantic date with one of your favorite couples. The Ice Queen and her boyfriend want to have an unforgettable date. The red hearts are hidden in different places so first you have to find them this will help you set the right mood. Try on different outfits for the cute love birds and then have fun surrounding them with decorations. Have fun!
10,250 play times
How to Play Ice Queen Romantic Date Game
Very simple, just click or tap the hearts on the screen.
What to wear on your First Date
What can I wear on my first date, you ask? When you are finally going out alone with your crush, you are eager to make sure you look attractive to that person and appear fashionable. You need to know where you are going and what you are doing so that you wear the right outfits, fix your hair into the correct hairstyle, and act in the correct format. A best friend or good friend may be able to help you select these items if they are not already dating your crush infatuation. Once you have perfected yourself, and you have a break, you may want to relax a little by sitting down and reading some quotes or by playing a free game online before you leave or get picked up. We hope your date is stylish and fun!
All sorts of Fun and Free Online Dating Games
Here at InternetGames365.com, you can play all sorts of fun and free online dating games or romance games. You can go on the perfect date, play dating anime simulations, or go on virtual dates. These flash games are interesting and fun for boys, and girls, teenagers, and adults. These games offer an assortment of daydreams and crushes, first dates and blind dates, kissing in the park or at the cinema, summer love stories, the interviewing of 7 potential daters, dating machines, and testing the compatibility of your names to name a few. You can learn more about the exciting world of true love and relationships by playing the Ice Queen Romantic Date game.