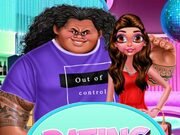 Dating Party Game Online - Play Free Fun Dating Web Games
The most beautiful princess Mia and Bella are going to attend the dating party today. But they are so confused to choosing the dating partner, could you help them to choose one of the handsome prince? Don't forget to help them for makeup and outfits. Have a great fun!
10,863 play times
How to Play Dating Party Game
Use mouse or tap the screen to control.
So, how does speed dating work?
If you have some questions about this type of event, we can give you a brief summary of the rules and some tips about actually doing this. You can also find some actual locations online for speed dating. According to WikiPedia, normally in the process, singles meet at an organized function where they are set up to interview and ask each other questions for a short period of time so they can meet many others and find out quickly if they have an interest in one another. Some general tips include being as relaxed as possible and smiling a lot, avoid talking about your job, and avoid talking too much about yourself. It is a good idea to have simple questions about the others recent travels, or their pets, their dreams and aspirations, music and restaurant preferences.
Fun and Free Online Dating and Romance Games
Here at InternetGames365, you can play all sorts of fun and free online dating games or romance games. You can go on the perfect date, play dating anime simulations, or go on virtual dates. These html5 games are interesting and fun for boys, and girls, teenagers, and adults. These Internet games offer an assortment of daydreams and crushes, first dates and blind dates, kissing in the park or at the cinema, summer love stories, the interviewing of 7 potential daters, dating machines, and testing the compatibility of your names to name a few. You can learn more about the exciting world of true love and relationships by playing the Dating Party Internet game.